Meet Our Team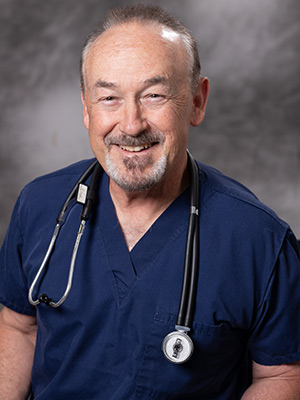 Dr. Steve Medlock
Veterinarian
Dr. Medlock was born into Veterinary Medicine while his father and uncle were enrolled in veterinary school at Michigan State University. From his earliest memories he always wanted to be a veterinarian. Through high school and his undergraduate college education never wavered from that ambition.As an undergraduate at the University of Louisville, he received the Woodcock Society Medal for highest scholastic achievement in his freshman year along with an honorary membership in the American Chemistry Society for outstanding achievement in Chemistry.

He was accepted to the Purdue University College of Veterinary Medicine where he received his veterinary medical degree in 1976. While at Purdue he received the Mead Johnson Fellowship for graduate research in Veterinary Pathology. He was selected to Phi Zeta the national scholastic Honorary Society of Veterinary Medicine. His senior year received the Upjohn Award for having achieved the highest degree of clinical proficiency in small animal medicine for the class of 1976.

After graduation, he worked with his father Dr. Robert Medlock, and his father's identical twin brother Dr. John Medlock at the practice they'd established in 1954, the North Side Animal Hospital. Expanded and remodeled in 1981, becoming the Bedford Veterinary Medical Centre. While at Purdue, Dr. Medlock met and become best friends with Dr. Jim Waeltz. In 1986, he in partnership with Dr. Waeltz purchased the practice when the senior Drs. Medlock retired.

Dr. Medlock currently resides in Monroe County with his wife and love of his life Erica (Ricci) Medlock, along with 4 dogs, 4 cats, 6 horses, and a pony. There they share 75 acres of heaven. She manages and cares for 27 horses on their equine boarding and training facility the Persimmon Ridge Farm and Stables. Dr. Kristen Humbach
Veterinarian
Bio coming soon!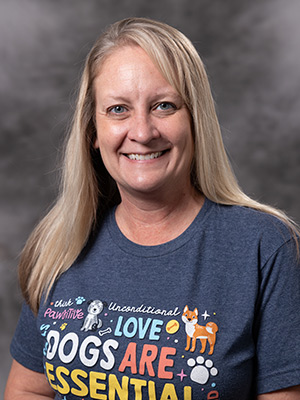 Jamie Deckard
Office Manager
My name is Jamie Deckard and I have worked at Bedford Vet for 18 ½ years. I truly love my job as the office manager. I have been married to my husband Curt for 12 wonderful years. I have a beautiful step daughter, Allie, who is also employed at Bedford vet. I have 2 dogs and 3 cats. Titus, my husky, and Gemma, who is a shep/pug/lhaso mix. We conducted a DNA test to confirm these breeds. My 3 cats are Mr. Wilson, Harley and Jax. Mr. Wilson is my oldest kitty who is also a diabetic. We love all of our pets like children. All of them have been rescued through the vet office. In my spare time, I enjoy going to parks with my puppies, riding motorcycle with my husband, and going to the movies.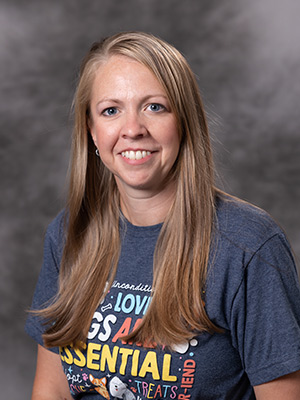 Kami Bush
Vet Tech
My name is Kami Bush, I've been a Tech with this group of people for 18 years. Coming to work is like going to my second home. It's what I love to do and it's what I've always wanted to do since I was little. I started job shadowing when I was 16 in pursuit of this career, and at age 18 started working here. I moved to Denver for a year to attend Bel-Rea Institute for Vet Technology and then returned home full time. I've been married to a wonderful husband, Alan for 10 years. We have 2 amazing kids, Izzy (6 years), and Noah (6 months). Can't forget the fur babies Rupert the Bassett and Fiona and Bella the cats.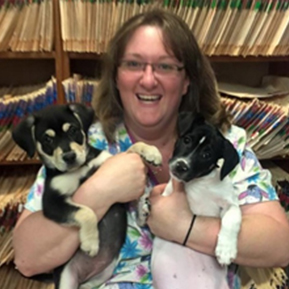 Amy Roll
Vet Tech
I have been working with animals for as long as I can remember. I grew up raising and taking care of many parrots and begun volunteer work with a vet at 13 years old. I started my first job at 16 as a kennel assistant and moved up from there. I have worked at Bedford Vet for about 15 awesome years. I have 2 wonderful girls and an amazing husband that all share my love for animals. Our family also has 4 dogs, 7 cats, and 5 fish.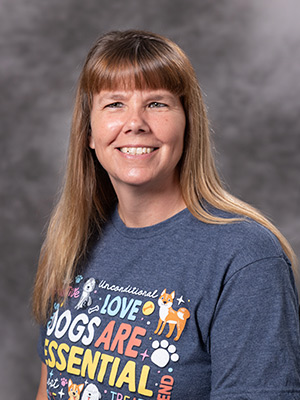 Robin Stewart
Vet Tech
My name is Robin Stewart and I have been working at Bedford Vet for 2 years. I have always enjoyed being around and working with animals. When not at work I am busy at home taking care of all of my animals. My husband Earl, who I have been married to for 9 years, and I show chickens, ducks, and goats in our spare time. Another one of my hobbies is taking care of my dog, Madison, our various cats, and our 13 goats: Penny, Slim Jim, Dolly, Tinsley, Diamond, Elle Mae, Rosie, Fire Cracker, Shelly, Pixie, Dixie, Star and Roxie.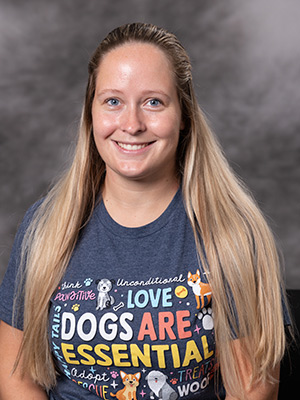 Ashley Brooking
Vet Tech
My name is Ashley Brooking and I worked at Bedford Vet for 2 years. I have always enjoyed being around animals and taking care of them when they were sick or hurt. I went to Ball State for Pre-Vet/ Biology and graduated in May 2015. I married my husband Jacob in March 2017, and we have a Jack Russell named Strider and a cat named Eve. When not at work my hobbies include working outside and taking Strider on walks.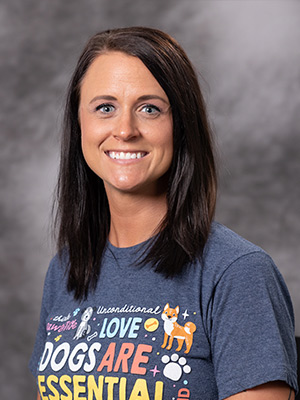 Jessica Elkins
Vet Tech
My name is Jessica (Waeltz) Elkins. I am the youngest child of Dr. Jim Waeltz. I grew up at Bedford Vet, coming into work with my dad since I was walking. I work full time as a Monroe County Court Reporter in Bloomington Indiana and I work the weekends at the vet. I married my husband, Brandon, in 2015. We have a daughter together and I also have a step daughter. We have 2 dogs, Duke and Martin. In my spare time I enjoy riding motorcycles, playing with my daughter, Aydin, watching movies, and doing family activities. I love working at the vet. This is a second home to me and a second family.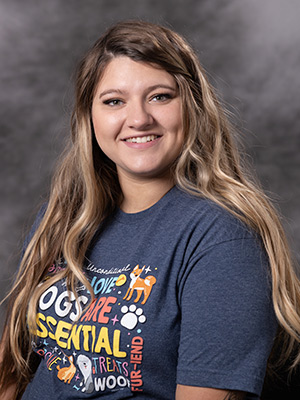 Allie Deckard
Vet Assistant/Kennel Assistant
My name is Allie Deckard. I have been raised around the vet clinic and have been coming to the clinic since I was 4 years old. I have now been an employee since 2015. When not at work I am busy taking my first born, Kamin to Riley appointments. Born in 2018 Kamin made me a NICU, and Riley mom! I enjoy watching my son grow, helping animals, taking vacations and spending time with family. I eventually would love to further my career in animal science.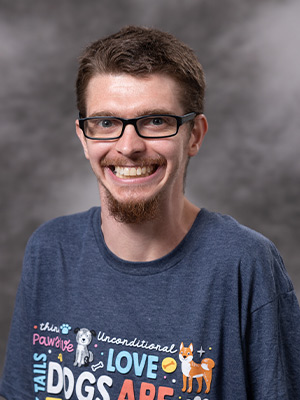 Jonathan Eichem
Kennel Tech
Jonathan is originally from Montgomery, Alabama. He moved to Bedford, Indiana with his family at the age 10 where he graduated from Bedford North Lawrence High School. His hobbies include collecting HO scale model trains, shopping for antiques, swimming, fishing, miniature golf, two handed bowling, volunteering at Bertha's mission, and helping animals in need. Jonathan resides with his parents, sister, brother, cat, and two dogs.